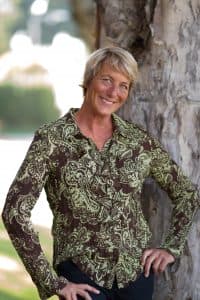 Susan Aach explores her passion for nature through her work with ceramics. Inspired by the ocean, mountains, the bark of a tree — she brings her love of nature and texture into all that she creates. She works with natural elements like water, clay, fire, and air to forge her artistic vision into her ceramic pots. Susan hand builds most of her pottery, first shaping, then imprinting it with natural tools like bamboo, shells, branches and other finds as she crafts her one-of-a-kind pots, platters and bowls. 
Susan Aach celebrates the perfectly imperfect with a rustic, organic quality ideally suited to the succulents her many pots hold. Each ceramic pot is high fired stoneware and features generous drainage holes to keep the plant healthy, as the texture and custom glazes enhance the appeal of these sculptural plants.
Having grown up in Hawaii, Susan Aach now makes her home in San Diego with her wife, Joanne, and their two dogs, Frida and Ty. She is living an artist's dream, with a fully equipped studio within her garden. Susan creates a wide range of handmade pottery, filling both her own catalog as well as creating commissioned custom pieces. 
You'll discover Susan Aach ceramic pots at upscale nurseries and home decor boutiques throughout San Diego, Orange County, Los Angeles and Palm Springs. She also sells her collectible ceramic items online, direct to consumer, shipping both within the U.S. and internationally.